Welcome to Hendersonville Christian Academy
Thank you for considering Hendersonville Christian Academy for your child's educational needs. At HCA, we believe that every classroom is a special place where God uses the teacher to accomplish incredible things in the life of every student. Our Christ-centered education makes us different from many other schools, and we believe you and your child will enjoy the difference.
Hendersonville Christian Academy is a loving community called to provide a quality Christian education from preschool to 12th grade. Our students thrive in a secure environment as we partner with parents to influence generations that will be a driving force for change, both academically and spiritually.
What you will find at Hendersonville Christian Academy
A Safe and Secure Campus: We work hard to provide a safe and secure campus. To aid with security, all building access doors along with classroom doors remain locked, and our campus is monitored with security cameras. We regularly review, assess, and train to maintain a safe learning environment for our students.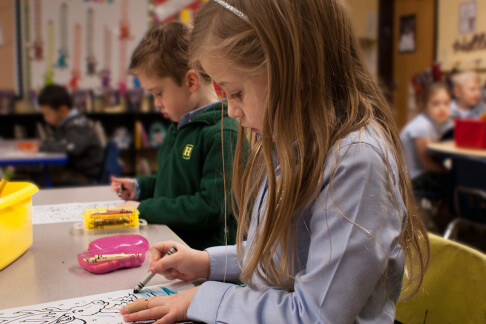 A Strong Academic Program: Our enriched curriculum taught from a Christian prospective is designed to prepare students to be successful in life and their future careers. The school is accredited by the Tennessee Association of Christian Schools (TACS), AdvancED (formerly SACS), and the TN Department of Education. HCA's academic program also includes art, music, technology, and P.E. for students in Kindergarten through 12th grade.
A Love for God and Country: Our students are challenged to love the Lord with all their heart, soul, and mind (Matthew 22:37). They enjoy participating in weekly chapel programs and daily Bible classes. God has blessed our country with a rich heritage of religious liberty and personal freedom. Our students are taught honor and respect for their country, Military, Veterans, and First Responders.
A Nurturing and Caring Faculty: Students learn best when they feel safe, encouraged, and loved. Our students receive quality instruction from caring and committed teachers in a smaller classroom setting. Our emphasis on classroom structure enables our teachers to teach the whole class while also meeting individual student needs.
A Competitive Athletic Program: Students in 4th through 12th grade can participate in the following sports: Cross Country, Volleyball, Basketball, and an intramural program. HCA competes in the Tennessee Athletic Association of Christian Schools (TAACS). Competition against other public and private schools is scheduled throughout the season.
Extra-Curricular Programs: Our students have the opportunity to participate in student government, chapel programs, Honor Society, art club, and yearbook; they also participate in TACS & AACS fine arts and academic competitions.
A Commitment to Teaching Biblical Character Traits: We believe students need to develop character traits that reflect Christian values. We regularly emphasize the following five biblical principles from Ephesians 4:20-32 and seek to instill them in every student.
Be a Truth Teller (v. 25)
Be a Right Responder (v. 26-27)
Be a Good Giver (v. 28)
Be a Grace Speaker (v. 29-30)
Be a Real Forgiver (v. 31-32)
If you believe your child would thrive in the environment at HCA, we encourage you to contact us today.