DEVELOPING THE WHOLE STUDENT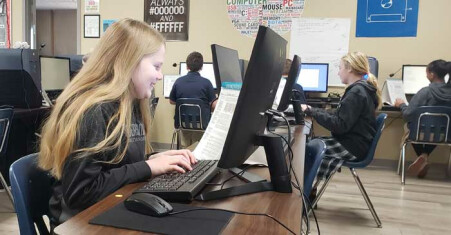 The ambition of Hendersonville Christian Academy is to graduate students with a sound and applicable biblical worldview that exemplifies the following distinctives of the whole student.
Our strategy for fulfilling our mission is to teach children to grow spiritually, academically, socially, and physically (Luke 2:52). Collectively, these goals provide direction for our school and form the basis for evaluating the overall success of our school.
Spiritually, we encourage every student...
To accept Jesus Christ as their personal Savior and to live their life in such a way that pleases Him (Jn. 1:12).
To love the Lord with all their heart, soul, and might (Deut. 6:4-6).
To maintain a devotional life with Jesus Christ through Bible reading and prayer (Col. 1:9-14).
To participate in the local church and share the gospel with others (Mt. 28:19-20).
To develop and practice a Biblical worldview (Jn. 17:1-26).
Academically, we teach every student...
To be a proficient reader and a skilled communicator (Eph. 3:4; 4:29).
To be a skilled mathematician (I Cor. 14:40).
To be culturally literate in the social studies (Ps. 104; 107:21-42).
To be knowledgeable of the world and the universe as God has created them (Col. 1:15-17).
To be appreciative of the fine arts (I Cor. 14:33).
To be skilled in the basic technologies related to learning, higher education, and future job training (I Tim. 5:8).
Socially, we challenge every student...
To love their country and honor its heritage (Rom. 13:1-7).
To love their neighbor as themselves (Mt. 19:19).
To exert a righteous influence in the world for Christ (Mt. 5:13-16).
To be a productive worker and good citizen in the community (Mt. 5:13-16).
To maintain right relationships with others according to Biblical principles (Eph. 4:32).
To develop personal character traits consistent with Biblical values (Gal. 5:22-24; I Peter 1:5-8).
Physically, we desire students...
To practice habits of good health.
To maintain a level of physical fitness necessary for good health (I Cor. 6:19-20).
To participate in team and individual sports.